REVOLUTIONARY DUCT AND FLUE RESTORATION, THE QUICKEST AND CLEANEST LINING SOLUTION
---
High quality & innovative chimney, duct and pipe lining solution for your home and business

FURAN FLEX 25 is a liner which has constantly evolved over the last 20 years. It can be adapted for use in any size project. Installation of FuranFlex25 is done with minimum fuss; it is unlikely there'll be any need to excavate walls or carry our any other intrusive work in your home as we only need access at both ends of the chimney/duct or pipe.
There is one crucial element that sets FuranFlex25 apart from other liners; FuranFLEX 25 is a 'composite thermosetting resin' liner. As well as being clean and quick to install, the lining reacts to the steam to create a solid material that protects your chimney.
All surveys are completed by fully qualified and experienced surveyor's, who will provide clear and comprehensive quotations, as well as offering any advice or expertise you may require. To learn more about Furanflex25, please visit www.kompozitalluk.com or watch our informative installation video here.
Why is furanflex25 different?
Minimal disruption to existing infrastructure of the chimney and your property

Can be freestanding or Mould to the shape of the chimney/duct or pipe

Reduces the inconvenience to others living in the same building

Grate Fires Ltd. will provide all equipment for the installation

Grate Fires Ltd. will use the technical panel to ensure work is a first time fix
Available for all kinds of flues ducts and pipes

FuranFLEX

25 liners are available in diameters from 50mm to 1250mm and in one piece lengths up to 100 metres

Can mould to shape of chimney/duct pipe to give maximum cross sectional area or be freestanding.
Kompozit'all uk guaranteed installers offer
A complete maintenance schedule
Technical support
Aftercare
Information & advice
Our furanflex25 Guarantee
Only Kompozit'all UK installers, such as Grate Fires Ltd, offer a 25 year guarantee:
The value of the guarantee doesn't depreciate
The guarantee is insurance backed (underwritted by ARK)
Liner and reinstallation costs are completely covered over the 25 year period
A full value replacement will be offered should a product issue occur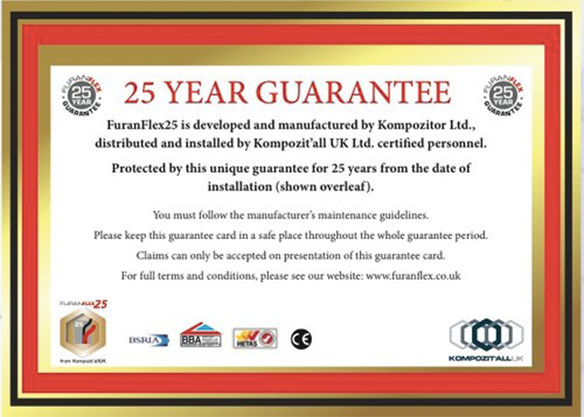 On completion of your FuranFlex25 installation, you will recieve this certificate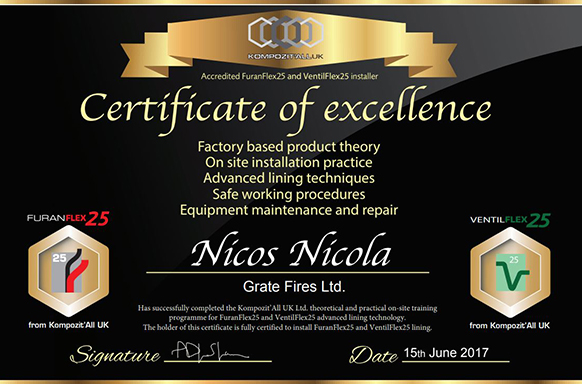 All FuranFlex25 installers will show this certificate to prove they are trained to install these products
The Range of Kompozit'all UK liners we provide: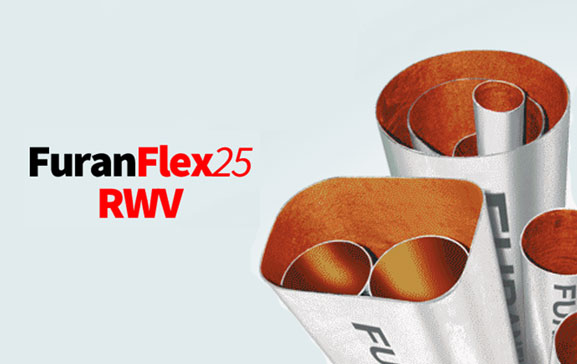 Flue Lining (Solid Fuel)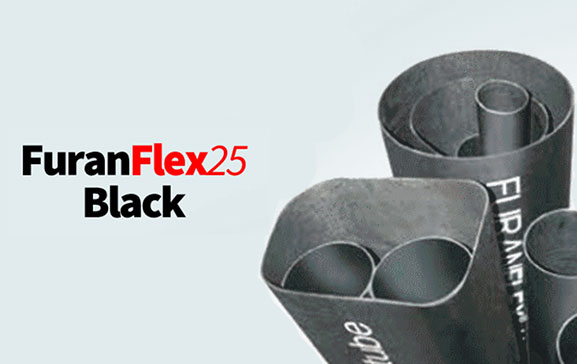 Flue Lining (Oil and Gas)
Kompozit'all uk training
Due to the technical demands of the installation, personnel who install the product are trained to the latest standards. This training is carried out yearly to update all installers with the latest techniques and products.
Only Kompozit'all UK set these high standards, which is why HETAS will only approve FuranFlex25 installations completed by Kompozit'all UK installers.